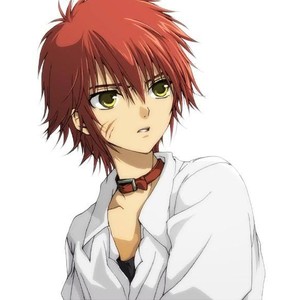 Name:
Day Essonar
Age:
14 (and a half)
Date of Birth:
09/05
Gender:
Male
Special Characteristics:
Day has a large claw scar, which has an explanation for in the backstory.
Personality:
Day is one of those people who are shy and timid at first, but once you get to know him and he gets comfortable with you, he turns into one of the most annoying person to some, while he becomes the best friend to others. It just depends on how you see him. He loves to tease his closest friends and play practical jokes on others. The only moment where he is not timid near a person is when he considers the person not a threat....But Day should learn not to judge a book by looking at its cover. Day is also very lazy. Whenever he can slack off from working, it is his first priority. But when something is serious, like when he takes on a job request, he is fully serious and goes full-out to complete the task. He is also loyal and will always help his friends if that is one of the options possible. That might also be his flaw. 165/150
Likes:
-Day likes "hands-on" approach. He suffers from a kind of hyperactivity and can never sit still.
-Day also loves to eat, whatever it might be. But his favorite meal has always been cheese, and he will eat any type of it.
-Furthermore, Day enjoys just relaxing in the sun and sleeping on the grass to relieve him from his stress.
Dislikes:
- Day dislikes news people. He completely despises them, and will never look one in the face. This is something that is explained in his backstory.
-Day dislikes talking about his family, as they were framed and many people now disrespect his family line. (See Backstory)
-Another thing Day does not like is anything related to water. His fear or drowning, anything that has to do with water, is one of his biggest phobias.
Motivation:
Day's Ultimate goal is to find out who framed his parents and why.
Height:
176 cm
Weight:
70 kg
General Appearance:
Day is a normal sized 15 year old, but one that has inhuman golden eyes. He does not know where they came from. None of his parents have golden eyes, and neither does his sister. Day also has freakishly dark red hair, which is the same hair as his father has. At least he can link to his family for this trait. Day usually wears casual shirts, with no special symbols, usually, on them. On special occasions, he wears what he calls "fancy clothes", which are clothes for when he meets important people and wants to look proper. A small dog-like collar sits around his neck. He wears this as a reminder from his mother, as this necklace, if you could call it that, was given to him by her, and was the last gift she had given to him. He refuses to ever take it off. It is waterproof, so it will never get damaged. But Day hates water, so no water will ever be near it. 168/100 words
History:
Day was raised normally in a normal family, and everything was going well with him and his sister, going to the local school of the town, learning, doing everything like everyone else, and going out to restaurants and partying, like a normal family does.
But one Day, while Day was returning from school, he returned to an empty house. The house was empty, except for the occasional whimpers he did not know where could be coming from. He finally found out. His 11 year old sister, was huddled in a ball, alone, in a dark closet at the far reaches of the vast house. She explained everything to him. Police had come to his house, and had arrested both his parents for dealing with a hazardous drug, that could wipe out everybody in the region. They were sent to jail, where they were locked up and all alone, with villainous murderers and kidnappers. Day had thought back to that morning, his parents smiling and waving him goodbye, and sent him off to school. And now he would never see them again. They would be in jail for life. And Day was only 12 back then. In addition, the story was everywhere in the newspapers, thus hating all newsmen. Everybody was talking about the Essonar family, with two kids at home and the parents in jail. Everybody at school were booing at him and pushing him around. Even the teachers showed hatred towards Day. Whenever someone brought up the name "Essonar", everybody would think of the insane family who stranded their children while dealing dangerous drugs...
Day had to learn how to survive. He did small jobs here and there, and his sister did the same, to work on getting food in their cardboard plates for the night. He had so much to do. Once he turned fourteen, he started leaving home, in search of the people who had framed their parents, while leaving his sister in an orphan home. Ever since then, he has completed small requests and has worked on solving the mystery of the Essonar family. The only clue the framers had left was a small pendant, with half of a thunder bolt, the top part to be exact, made out of solid gold.
376/300
RP Sample:
Day was working once again on one of his part time jobs.He would usually do these jobs to feed himself and his little sister, but as he was alone, he couldn't and was only doing it for himself. These jobs usually consisted of rescuing cats stuck in trees, where he had to climb ladders and crawl on branches, but this task seemed very easy. All he had to do was garden at some rich family's house. The whole time there, where he was pulling weeds and watering all the plants in the huge house and property, he couldn't help it but notice the two  little kids, a boy and a girl, playing together at hide and seek in the bushes. They occasionally stumbled upon Day, but they pretended he wasn't even there. Day didn't care, as all he could think about is how this family resembled his long lost family. But with his parents in prison, these memories did not bring back joy to Day's face. Instead he turned back to his worked, his face flushed with anger. But for the rest of the afternoon, he couldn't stop thinking about the family. He couldn't work like this, so he went back to the lady who had hired him and told her. She was not pleased and sent him away with nothing.Day had to find another job for the day.
231/200 words
http://www.fairytailrp.com/t37928-day-essonar-new
Face Claim:
Original


Last edited by Day Essonar on Wed Sep 02, 2015 3:01 pm; edited 1 time in total